5 simple tips to improve the usability of your website
Posted by Ben on April 18th 2017
Design is not a science but by checking your site against some of the "rules" below we have no doubt you will see your results improve.
1: Give elements room to breathe
One of the first and most effective things you can change to make your website more user friendly is to ensure that the elements on the pages have enough space around them and enough "room to breathe".
It is an often overlooked aspect of a websites design and one that can easily be rectified. By making this simple change you can often improve a busy design that repels visitors into one that is more engaging and interesting. Negative space is such an important part of design as a page that is too cluttered will quickly put off visitors and make them leave your website.
Look at the difference
To demonstrate just how much of a difference this can make we have taken our own website as an example. We have removed some of the space around the elements to show you how not enough "white space" will quickly turn a good design into one that is not as engaging.
Elements with space removed

In the above example we have simply removed the space around the elements on the page. We also reduced the height of the text lines, squashing the content together. This makes it very hard to read.
Elements given room to breathe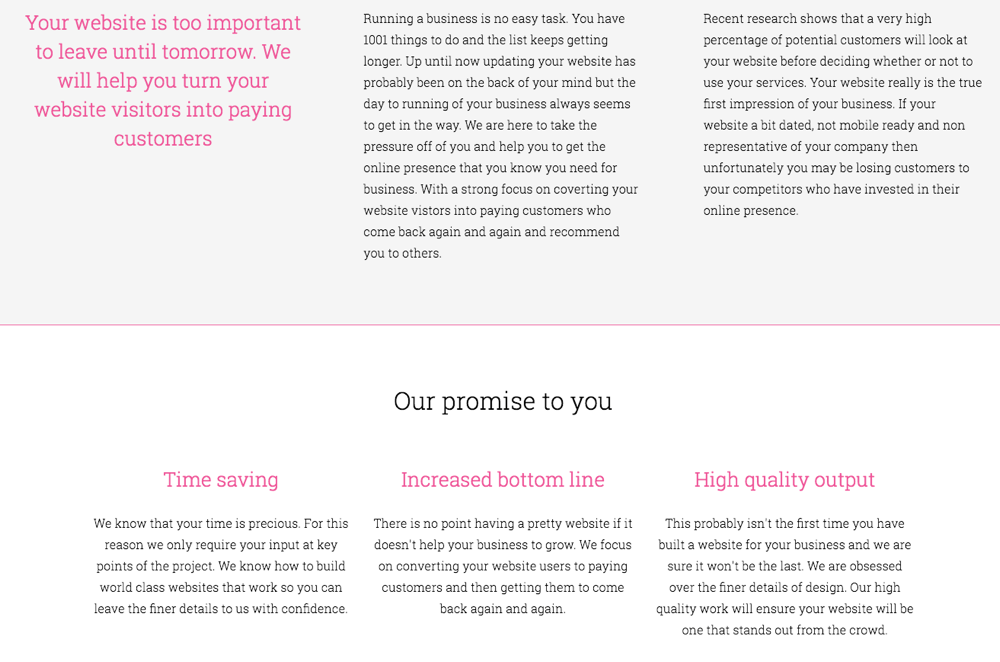 In the second example we have given the elements on the page more space around them and increased the line height . This simple change makes the content more engaging for the user and a lot easier for them to read.
2: Have a clear call to action
When your visitors are on your website it is best to make their journey as simple as possible. Web behaviour studies show that web users scan pages to look for cues about what to do next. You can take advantage of this fact to generate more leads for your business by having clear, bold and obvious "Call to actions" for your website visitors. By doing so you will quickly begin to see the results you are getting from your website improving.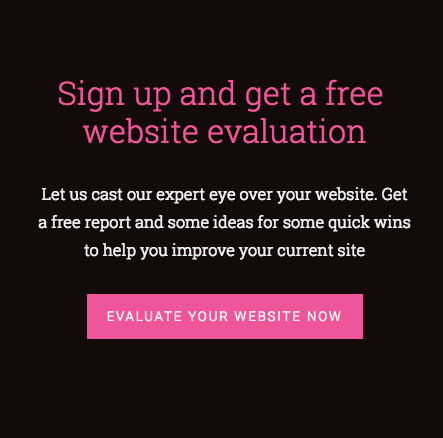 Above is an example "Call to action" from the swoop website. It is clear, concise and jumps out at the user. The user will have no confusion over what they should do next, reducing friction in their minds. Implement this technique and you will have more leads coming your way through your website.
3: Choose your colours wisely
The choices you make for the colours of your website design can quickly make or break it as a succesful lead generating tool. Colours have emotional implications associated with them so it is best to pick colours that best suit your brand and your website visitors demographic. Using colour choices that clash for backgrounds and text will also very quickly put your website visitors off as the below example shows.
Avoid blue text on a black background
Take a minute to go through your website to see if better colour choices would improve the design and feel of the site. Rectifying this very easy to change point can very quickly make your website 100x better to look at and easier to use for your visitors. The aim of the game is to remove any friction for your users so they enjoy the site and stay with you for as long as possible.
4: Pick the correct font
Font selection for your website could be a whole seperate book in it's own right. Picking the correct font is so important to the success of your website that it is well worth giving this some very serious thought.
The font you choose can dramatically alter the message you are giving your website visitors just as much as the actual words that you write. Fonts are very emotive and can either build or destroy your web visitors trust in your message in seconds.
To demonstrate just how important font is take a look at the example below. The exact same words just written in a different font. Which accountant firms business card would you pick up? Which one would you trust?
Chartered & Certified Accountants
Chartered & Certified Accountants
Fonts change the meaning of the text
It is clear from the example above that by simply changing the font used the meaning and message that the words are giving can be greatly altered. If you are looking for a trust worthy accountant I am sure like us you would have picked up the first business card. It is a lot more professional and it really does instill the feeling of trust.
Now that you have seen just how important font selection is, take a look at your own website with fresh eyes. Is the font supporting or harming the message you are trying to get across to your customers about your business?
5: Make your content more readable and engaging
The way we consume information on the web is by quickly scanning the website to see if there is information that is relevant to what we are trying to achieve. We do not read every word as we would a book so it is important that this is taken into account through the way that the text on the page is laid out.
You can improve the readability of your text and engage your website visitors more by making sure you utilise the following.
Create a page heirachy by using different sized text for headings
By simply using differnt size fonts for the headings on your website, the user will very quickly understand what are the most important elements on the page. Use larger fonts for the important page headings and slightly smaller fonts for secondary sub headings and section titles.
Break large chunks of text into smaller paragraphs
Breaking large chunks of uniterupted text into paragraphs will help the user quickly scan the page to find the information that they are looking for.
Use relevant visual elements to support the text of your web page
By using interesting visual design elements to break up blocks of text will increase the readability of your message. Consider using well placed and relevant images, quotation blocks and other visual elements such as icons and buttons to transform your website from a mundane block of text into a visually appealing work of art.
Conclusion
We really hope that this short blog post has given you some food for thought about how you can easily transform your website into one that will begin to engage your visitors a lot more, in turn creating more leads for your business. If you have any questions or comments about this post or anything web related we would love to hear from you.
Sign up and get a free
website evaluation
Let us cast our expert eye over your website. Get a free report and some ideas for some quick wins to help you improve your current site