The Solution Group wanted a brand new responsive website to upgrade their online presence and take their business to the next level
Who are The Solution Group?
The Solution Group are a fast growing recruitment agency specialising in the Construction & Engineering and Office work sectors. With a large book of clients and candidates alike, they were badly in need of a website that mirrored their ambition as a company.
We worked with them to produce a site that everyone involved was very proud of. It has given the company the confidence to move forward and to take the next step with their business.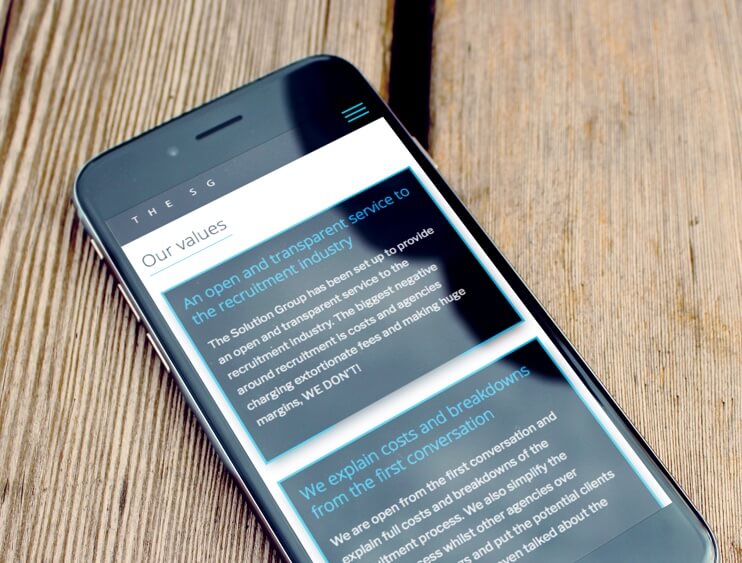 Reponsive design
All sites that we build are designed for all devices. The Solution Group project was no different. We started with the mobile phone design and then worked our way up as we knew that such a large proportion of their prospective visitors would be looking at their website from smaller devices.
Focused on lead generation
The main aim for this site was for it to be a shop window for the company that would generate a lot of leads. With this in mind we placed a lot of emphasis on bold "Calls to action" that would direct the website visitor to contact the company. From here they would have warm leads that they could nurture.
The end result
The finished product is one that we are all very proud of here at swoop. It has a slick corporate look that works well across all device sizes. The Solution Group were great to work with and they ended up with a website that they love.
visit the website

I own a new start up business and was looking for someone to design and create a website to make us stand out. I came to Swoop and what they have done has been amazing! Every step of the way they have been more than helpful, I kept wanting to change wording etc which they were happy to do so. It has resulted in us having a website that¹s not only mobile friendly, but very well set out and eye catching, which various clients have already praised us on, and all for a very competitive price. I can highly recommend Ben and his company and have passed on his details already to various people and he is starting on a website for a friend of mine.
James Lovell-Butt
MD of The Solution Group
Sign up and get a free
website evaluation
Let us cast our expert eye over your website. Get a free report and some ideas for some quick wins to help you improve your current site