Active Studios were looking for an upgrade to a more vibrant website that matched their brand
Who are Active Studios?
Active Studios are a film and video production company that have worked with a long list of large clients all over the world. They were looking to upgrade their website from a relatively plain and dull one to a more vibrant colourful website that was a better match for their brand. They were ready to take the next step with their business and needed a website to attract the kind of clients that they would like to work with.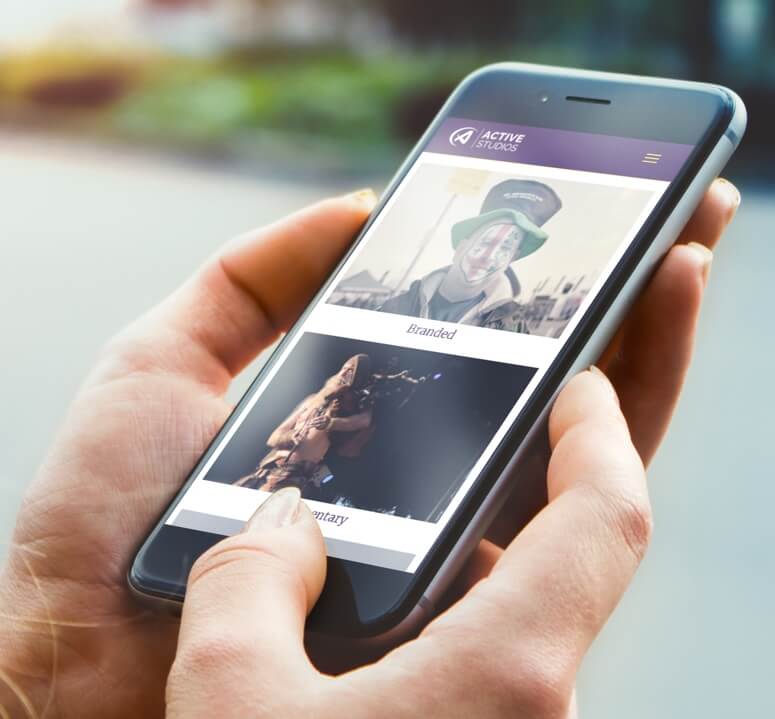 Vibrant colourful design
It was very important to the guys at Atctive Studios that the finished product was bright, modern and felt energetic. They are a forward thinking young company and they wanted their website to reflect this.
Mobile phone leads
Paul at Active Studios understood that the people who would be looking at his site would mainly be doing so on the move and on their smarthphones. In order to take advantage of this and allow his visitors to contact him easily we developed a slick link group to permanently sit at the bottom of the telephone screen so Active Studios could be contacted at the touch of a button.
Driven by video
As a video production company it made sense that they wanted video to be a large part of the design of the site. After a number of discussion we finally agreed upon a stunning video montage of their work to take pride of place at the top of the homepage. The end result is one that everybody is very pleased with.
The end result
With the help from Active Studios we were able to develop them a state of the art modern website that correctly positions them as a forward thinking and talented video agency. Everybody here at swoop are very proud of the results.
visit the website

"Swoop delivered a fantastic website that was exactly what we needed for the business we are in. It is vivid, dynamic and bold and his consultative approach and understanding of websites was enlightening and informative."
Paul Jibson
CEO of Active Studios
Sign up and get a free
website evaluation
Let us cast our expert eye over your website. Get a free report and some ideas for some quick wins to help you improve your current site