The White Hart had recently completed an extensive renovation to their restaurant and wanted their website to reflect it's new high standard
Who are The White Hart, Cranleigh?
The White Hart is a freindly local pub in the centre of the Largest village in England, Cranleigh. Although the pub has been central to village life for decades a recent renovation to the building prompted the owners to update their existing website.
We worked closely with the owners and management team at The White Hart to ensure that their new online presence was inline with the goals and ambitions that they had for the business.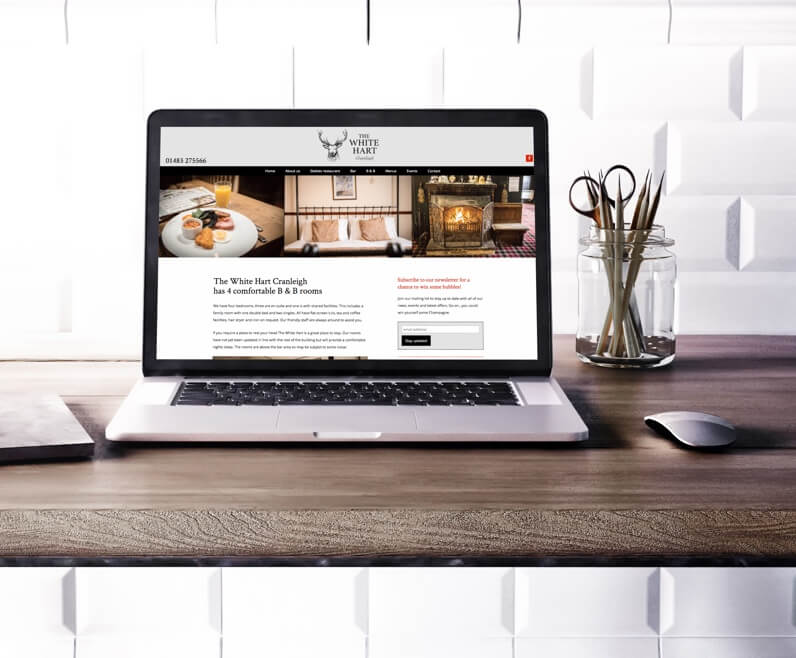 Reponsive design
As with all of our projects, responsive design for the website was at the top of the list. We wanted the website to be as easy to use on a smartphone as it was on a desktop pc.
Bespoke photography
In order to show off the beautiful renovation they had recently undertaken we put top quality photography at the forefront of the design for this website. We really wanted to show new customers and returning local customers just how inviting the establishment now was.
Focus on lead generation
There is no point having a nice website if it does not fulfil a business need. The White Hart wanted the website to drive more contacts and enquiries from their visitors. We put strong emphasis on making the user journey point towards the contact forms for his project and since launch we have seen some very impressive results in this area.
The end result
The White Hart have moved from an out dated non-responsive website to having a up to date and effective one. Since the launch of the site they have seen a tremendous spike in the amount of enquiries that they receive for all areas of the business.
visit the website
Sign up and get a free
website evaluation
Let us cast our expert eye over your website. Get a free report and some ideas for some quick wins to help you improve your current site